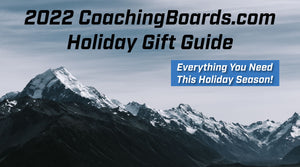 2022 Coaching Boards Holiday Gift Guide
Everything You Need For Your Favourite Coach/Player
Don't Get ROCKED this holiday season because of inventory problems. You definitely don't want to show up to any holiday celebrations lacking the gifts you promised to get. Inventory is short everywhere and gifts are going to be very difficult to get. Here at CoachingBoards.com, we are fully stocked up and can even help you with customizations on our products (Logos, Names, Etc.)... where else can you find that! Read on to see our three favourite products that we have picked for this year's gift guide!
What a way to kick off our gift guide! I know at least 50 coaches that could benefit from this thing, even parents! Our Coaches Game Book is a pocketbook that has the capacity to track things like current line-ups, game stats, special teams, notes, and much more. Think about that, all that information can fit into a pocket-sized book. Fantastic for a stocking stuffer idea!
2. Dry Erase Pocket Cards (On Sale For $9.99)
While we are on the thought of great stocking stuffers, here is another one! This dry erase pocket card is the same size as our game book and made out of the same sturdy material as our full-sized boards. Don't want the hassle of carrying around a big board, be discreet with this little thing. Still to scale and only $9.99!
Safety is the most important aspect in every sport. You could have the greatest drawn up plays using the flip side of this board (regular layout) but if one of your players gets hurt, you need to make sure how to ensure that they are 100% safe. Head injuries are incredibly dangerous and scary, so don't go to your next game without this board. One side has the "Concussion Recognition Tool 5" on it, and the other is our standard ringette rink printed to scale. Double functionality!

Bonus product! The majority of kids get a pretty nice break for the holidays and many struggle getting back into the school grind. Keep your kid freshened up and sharp... ready to head back to ace that first week back quiz! Our medium math board has tons of information on it, no technology required. Trust us, we all get distracted because of technology!
Thanks for reading! As always, feel free to reach out to us and make sure to keep an eye on our social media for any exciting news! #TEAMCOACHINGBOARDS
---